DATE: Monday 29 October 2018
LOCATION:
Glasdir Business and Conference Centre
Plas yn Dre
Llanrwst
LL26 0DF
North Wales Marketing Club (NWMC)
The NWMC is aimed at small business owners and in-house marketing managers based in North Wales that would like some guidance and support with their marketing. Our next meeting is being held at Glasdir, Llanrwst on Monday 29 October between 10-12pm where we'll be talking about Marketing Funnels – What are they and do you need one? (hint – everyone needs one!) 🙂
NWMC was inspired by Chris Grice of Tree Frog Digital,  and is led by Teresa Carnall of TBC Marketing and supported by Glasdir Business and Conference Centre and Glasdir Skills Academy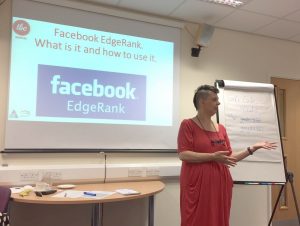 The first meeting was held on Wednesday 26th Sept where we discussed the new Facebook algorithms, what impact they've had on Facebook business pages and what we can do to ensure our posts get seen. The club was a great success. 'even if I do say so myself' – Teresa.
Thanks to the support of Glasdir, this first meeting was completely free of charge with subsequent meetings costing only £7.50 to pay for the room and refreshments.
The regular meetings of the North Wales Marketing Club will be held on the fourth Monday of the month.
BOOK YOUR PLACE for the October meeting (Monday 29 October)